In Hawaiian, the name "Wai Mauna" translates as "mountain water," and having watched the sport explode in popularity since its early days in Maui, our goal is to bring a piece of the Islands right here to the river in Asheville.
All of our tours have a touch of that classic, casual aloha spirit, and we're also big on sustainability and supporting our local community. You can check out our sustainability page for ways we're working to help Asheville.
Meet The Team
We're proud to work with some of Asheville's best paddlers—all of whom are certified by the American Canoe Association as professional paddleboard instructors.
Current Instructors
Wai Mauna Asheville SUP Tours was founded by Kyle Ellison, a paddler, diver, surfer, and sailor who moved from the beaches of Maui, Hawaii, to the mountains of North Carolina.
Prior to operating Wai Mauna Asheville SUP Tours, Kyle spent a decade traveling the world and working in tourism and watersports. He's an ACA Level II SUP Instructor, PADI Divemaster, SNUBA Instructor, and holds a 100-ton Captain's License from years spent working on sailing catamarans in Maui.
He spent a summer guiding sea kayak tours through Alaska's Kenai Fjords, and another summer as a charter boat captain in Lake Tahoe, California.
He competes on the professional paddleboard circuit, has been a team rider for JP Australia, and in 2018 was ranked top 100 in the world on the professional paddleboard circuit.
He's also the author of a guidebook to Maui, has traveled through 68 countries, and helped to start a non-profit in Cambodia that provides scholarships for underprivileged students.
When he isn't on the water or working on the business, you'll find him playing with his two young boys, Tanner (4) and Tristan (2).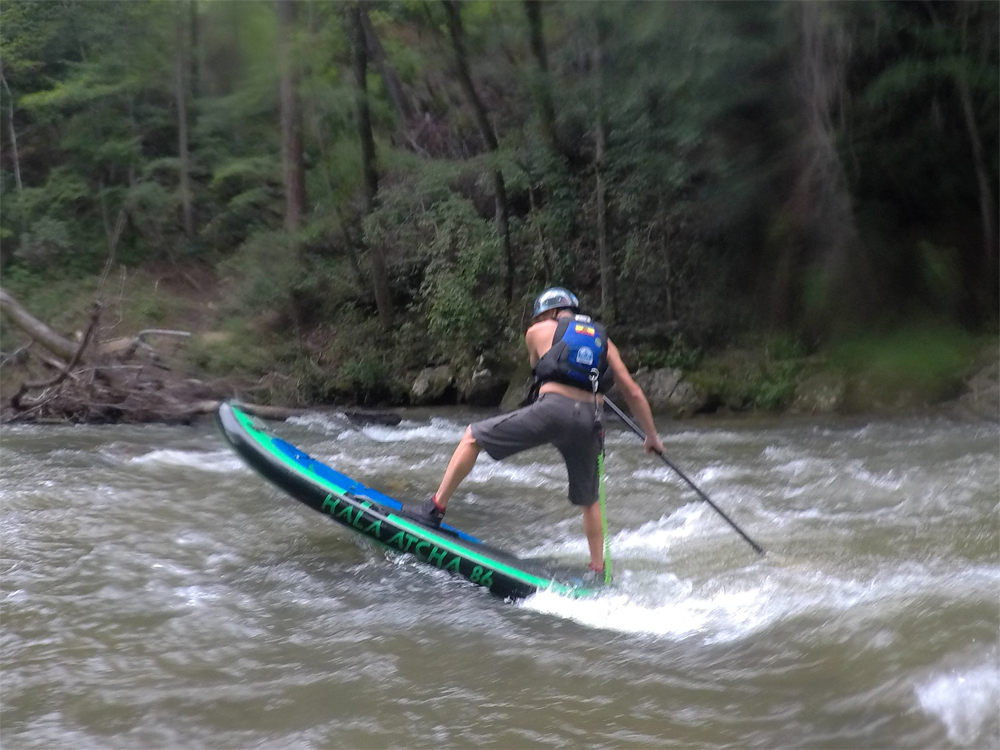 It was Asheville's rivers and whitewater spots that brought Tom to Asheville 24 years ago, and since that time he's tackled rapids in every river craft imaginable.
He started out in whitewater kayaking before moving to whitewater canoe, and he now runs rapids on his standup paddleboard with a crew of Asheville's best paddlers.
He's an ACA certified SUP instructor and CPR/First Aid certified, and also enjoys snowboarding and mountain biking when he isn't out on the river.
A regular face in Asheville's whitewater scene, Eric has been paddling since 2012 and is an ACA certified SUP instructor. He has two teenage daughters, is happily married, and says he has always loved being on water since when he was a little kid.
He brings a genuine enthusiasm onto the river, and when he isn't leading paddleboard tours you'll likely find him out whitewater paddling or riding his bike (or One Wheel) through West Asheville.
Originally hailing from Wilmington, NC, Patrick is the coastal surfer of the group who recently made his way to the mountains and the banks of the French Broad River.
He's a certified school teacher who's also worked in law enforcement, and he's found that paddling here in the mountains helps fuel his need for being on a board that's been missing since he moved from the coast.
He's currently enrolled in school full time, and when he isn't paddling here in Asheville he's searching out waves in Central America or hanging on islands in the Bahamas. He's an ACA certified SUP instructor as well as CPR certified.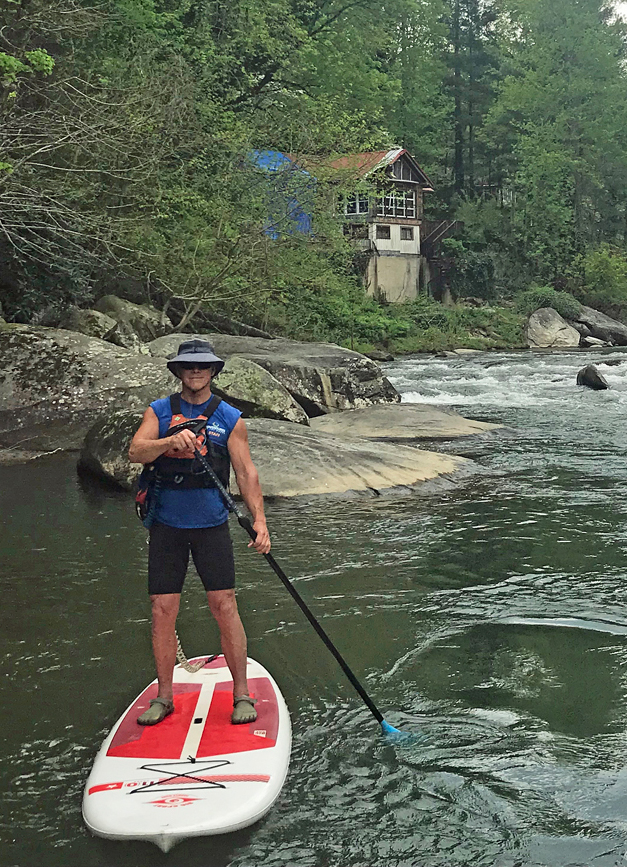 No stranger to rapids or rivers, Steve has been leading whitewater trips since 1973, but it was the movie Deliverance that caused him to move from the plains of Ohio to West Virginia's valleys and seriously take up whitewater.
He spent 28 years with his own company, The Rivermen, and personally guided thousands of people down on of America's most action-packed stretches of water.
For the past three decades he's spent the month of March leading trips through Big Bend in the West Texas wilderness, and now, at a spry 65 years young, he's picked up the sport of standup paddling and is out on the water virtually every chance he gets—especially if he's training for a race.
He's guided all over the world and has posted many first descents, and in his 50s he paddled all the way from Washington DC across the country to Astoria, Oregon where the Columbia meets with the ocean.
He's an ACA certified SUP instructor with a deep background in all things paddling, and he's always happy to swap stories and tales while spending a day on the water.
A WNC native from Jackson County, Lela was raised around rivers and streams, paddling, fishing, and swimming.
He first teenage job was with a rafting company, and this was followed by years in the bicycle industry and also time as a filmmaker.
Eight years ago she discovered standup paddling and has been doing little else since. She holds a strong passion for whitewater SUP and scenic stretches of Southeast rivers like Nolichucky and Chatooga.
When she isn't leading trips on the river you can find her working at the Pubcycle downtown or standup paddling through rapids.
She might also be on a mountain bike trail with her husband and 9-year old son, and she's an ACA certified SUP instructor that we're stoked to have on the team!
Having worked as a boat captain, scuba diver, and researcher in New Zealand as well as Hawaii, Danelle missed surfing and chasing waves when she moved up here to the mountains.
When she learned of whitewater standup paddling she took to the waters immediately, and when she isn't leading standup paddle tours on the calm, flat waters in Asheville, you can find her paddling whitewater rapids on Section 9 of the French Broad.
Her second passion is rock climbing, and she's super keen to share the stoke she feels on the river while paddling through Asheville. She's an ACA certified SUP instructor and CPR/First Aid certified.
Born and raised in Western North Carolina, Holly grew up right by the banks of the Pigeon and French Broad rivers. She was introduced to standup paddling when a friend brought a board on a camping trip, and now she's gone from lazy day paddles to racing and paddling whitewater.
Thankfully her "day job" as a veterinary technician allows her the freedom to pursue these adventures, and outside of standup paddling she also enjoys camping, reading, and creating crochet.
You can also find her hiking along with her two dogs, and she's excited about introducing new people to Asheville and fun escapades on the river. She's an ACA certified SUP instructor as well as CPR certified.
An Asheville resident by way of Connecticut, Les is a surfer who found his way to the mountains and is now enamored with paddling.
He's an avid racer on the Southern Stoke series and has competed in some of the country's largest events from including Carolina Cup to Chattajack.
He's constantly working on improving his stroke and putting in better times, and when he isn't honing his stroke on the river he teaches Spanish at a local high school and makes frequent trips down to Puerto Rico in search of sunshine and waves.
He's an ACA certified SUP instructor as well as CPR certified.